Rapperswil Day Trip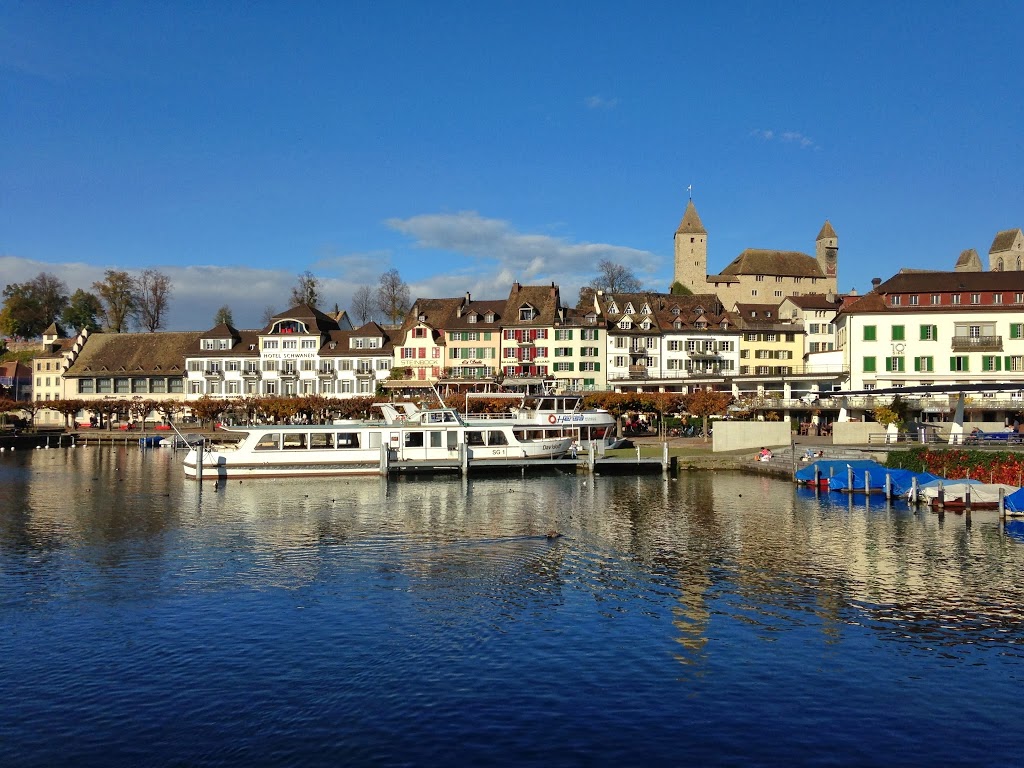 Welcome to Switzerland lol!
Yes, I am writing about my life now in Switzerland despite not even finishing the Germany ones.
But Switzerland is so pretty and I have wifi access at home now so... we should live for the present yeah? :)
So... on the first Saturday in Switzerland, my colleague and I went to Rapperswil for a day trip since it was nearer to us (I was still living in Wolfhausen then. Now, I'm in Bubikon area.) than Zürich.
The Swiss colleagues weren't able to accompany us that weekend so we made do with... getting out of Wolfhausen to Rapperswil.
Hopped onto the bus and made our way to Bubikon where the nearest train station is.
Bloody expensive I tell you. Paid close to 14CHF for the trip and back and it's like... travelling from AMK to Orchard Road only leh.
Sigh.
And it's bloody complicated the Swiss transport system. Hopefully I'll be able to understand it before I leave lol and write an entry on how to buy tickets/survive here in Switzerland.
It was quite a nice Saturday and lucky us too because subsequently the weather turned shittier and all I've been seeing everyday now is fog and more fog. I feel like I'm living on Silent Hill or something.
Anyways, the trains really surprised me! So much more cleaner and newer than the ones in Germany.
Plus they had a screen that showed you which station was next as well as the entire route of the train.
Pretty awesome because the driver would speak in German when I was in Germany and I couldn't understand anything T.T so the Swiss trains were a nice welcome for me.
Rapperswil is really a small town within the canton of Zürich.
It was my first time there and I quite liked it, small and quaint with an awesome view of the mountains with Lake Zürich.
All my pictures were taken on my iPhone 5 and edited to brighten up the pictures.
I really love how the sky (when you can see it) is a bright blue and the clouds are fluffy white like marshmallow lol..
Makes me wanna migrate here if not for the high standard of living and the language barrier.
So we kinda made our way to the post office first to get our prepaid sim cards before walking to the... town square I suppose to find food and naturally... we went to McDonald's lol.
My cheeseburger royal with rosti fries and yoghurt sauce. Yum, love the sauce.
Yes, everything is expensive in Switzerland. I think the only thing that is free is really the scenery and fresh air.
Oh, and Evian is quite cheap here too lol.
The lake you see here is Lake Zürich and I was really in awe of how clear the water was.
And.... SWANSSSSSSSS HOMGGGG!
I think this is the most amount of times I've ever seen swans/ducks/fowl/birds on my Europe adventure.
First London, then seeing them in canals in Amsterdam and now.... even in the lake!
They are really everywhere lol. Is it bad that everytime I see a duck I think about roasted duck rice? :O
There really isn't much you can do here in Rapperswil other than see the lake and climb onto the hill where there is a museum, church and deer garden.
Sorry for the bare face. I was very sleep deprived and ran out of my room to catch the bus without putting any makeup on D:
I will keep all my stale bread and try to feed them one day lol
Castle with a museum inside
Here's one of the deers from the deer garden
See how clear the skies are?
I was honestly quite bored by the time we made our way to the bridge to cross the lake because I was extremely exhausted from packing the night before leaving Germany plus all that walking killed my feet lol.
And it was cold too! :( Much too cold for my liking to be honest.
But the lake is really magnificent! The amount of pictures I took of it should be testament to how much I loved it there.
Here's the bridge that people walk over it and admire the scenery lol
It's a good 45 min walk from one end to the other
I headed back after walking about three quarters of the bridge because I was really exhausted by then and waited for the colleague by the lake.
He turned up a good 30 mins later while I froze all the way lol.
Thankfully bff was entertaining me on LINE.
Made our way back to the area where we found McDonald's and bought gelato from the store beside it.
Pretty yummy albeit the price for such a small cup (wtf 5CHF leh).
But cannot hiam already, quite reasonable for Switzerland's standards alr lol.
Went in search of a huge supermarket (my fav activity) because I wanted to stock up some food in my hotel room as everywhere was closed on Sundays.
Lugged a huge bag of groceries from the supermarket and was really hungry by then.
The cold weather really wrecks my eating timings.
I'm perpetually hungry all the time and at 4.30pm I am starving but have to wait till 6pm for dinner because that's when the restaurants open :/
Now that I'm living in a house and have a kitchen to cook in, my tummy is easily filled before 6pm lol!
Ok, enough digression.
Went in search for dinner then and settled for thai food because the colleague said he wanted to eat that (I was hesitant because I was afraid it'd be expensive but by then was really sick of pasta/risotto/schnitzel/whatever western food so I caved and said okay).
Engelplatz 4
Rapperswil 8640